Volunteer Spotlight: Julie Webb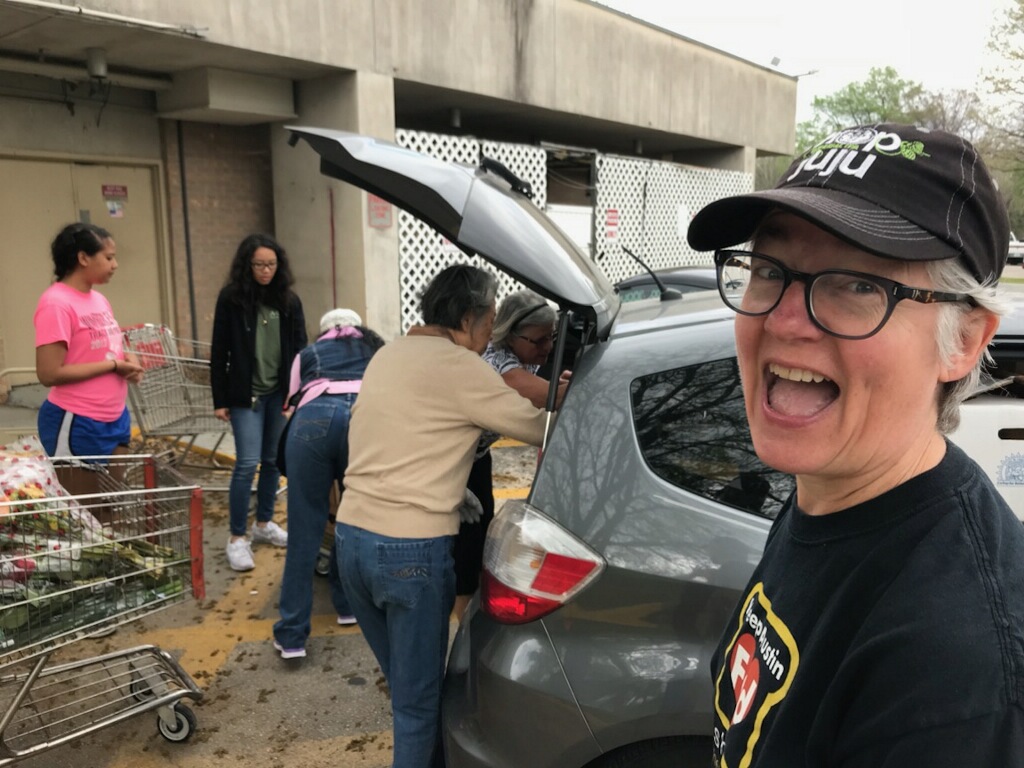 Where is your hometown?
I was born in Houston, but in my generation the most common story among the Austin population was that we came here for university and then never wanted to leave. Therefore I've lived in Austin since I was 18 and these days that's almost like being an Austin native.
How do you spend your time outside of volunteering?
My time is spent volunteering for a variety of organizations, though KAF gets most of my attention. I am a volunteer manager for the Author Transportation Crew of the Texas Book Festival, I volunteer with KLRU's Austin City Limits and Overheard with Evan Smith, and I'm the treasurer at my church, where I also am on one of the "Homeless Breakfast" crews. I have a large-ish family and enjoy spending time with them, especially when we gather at my Mom's ranch in Medina. I'm a member at Townlake YMCA, my home away from home. Also, I've just opened up my garage apartment as an Airbnb, so that's fun.
Any unusual hobbies, skills, or talents?
Yes, my superpower is that when putting away food after dinner I can judge with 100 percent accuracy the size of container needed for the leftovers. My husband is constantly amazed at this gift.
How long have you been volunteering with KAF and what made you want to get involved?
I am soon to celebrate my 4 year anniversary with Keep Austin Fed. Woohoo! I remember reading an article in the Statesman four years ago and cutting it out because I wanted to be sure to pursue joining the organization. My folks were children during the Depression and, common story, this experience instilled in them a lifelong frugality….especially related to food. Throwing food away was just agonizing for my Mom so she found many ways to avoid doing that. (Maybe this is where the leftover-container skill came from?) Also related to the Depression….my Mom often told the story of how her dad - my grandfather - would go around San Antonio in his truck to all the bakeries to pick up day-old bread for the Salvation Army for use in their soup kitchen. He wasn't a member of that church but he admired the work they did and wanted to help out. So apparently food recovery is in my DNA!
My friend recently shared this quote with me:
"When health is absent, wisdom cannot reveal itself, art cannot manifest itself, strength cannot be exerted, wealth becomes useless, reason becomes powerless."
~Herophilus, 300 B.C., Greek Physician and Philosopher
My belief is that health begins with excellent nutrition. Hungry children and adults have diminished capacity for cognition, creativity, and physical effort, not to mention the negative impact on quality of life. I'm so proud that Keep Austin Fed is not just recovering food, we're preserving high quality food and sharing it with folks who might not otherwise have access to such nutritionally dense sustenance.
Do you have any memorable stories from food runs/drop-offs?
I'm on the SWAT Team and those runs can offer surprises at times. A couple of years ago I responded to a SWAT call from Trader Joe's Arboretum a few days after Thanksgiving. They had turkeys to donate. When I got there I found that the turkeys were 20-25 lbs each, they were frozen solid, and there were a lot of them. I had no gloves so my hands got very cold, then damp, and then they began to freeze to the turkeys as I transferred them from carts to my car. I piled turkey upon turkey in my little Honda Fit then made stops at multiple partner agencies, feeling like early-Christmas-Santa delivering poultry instead of toys. At the first few places I went to we had to open the hatch v-e-r-y carefully because frozen turkeys wanted to bounce out. It was amazing and ridiculous.
What's your favorite thing about volunteering for KAF?
I love the relationships forged with people: fellow volunteers, our donors, and the staff/volunteers at our recipient agencies. We're all working toward a collective goal. In an era of so much division among people it just feels good to walk on common ground with folks.
Do you have any fun tips for how you personally reduce food waste in your own home?
You can turn any leftover into a taco. What we say around here: "As for me and my house, we will serve tacos." Salsa 24:7